Carrot & Orange Muffins (NO sugar)
March 25, 2019
: approx 12-15 muffins
: 10 min
: 20 min
: 25 min
: Easy
Super easy baby muffins for you baby 6 months old + , toddler and family. These are naturally sweetened using fresh squeeze from an orange.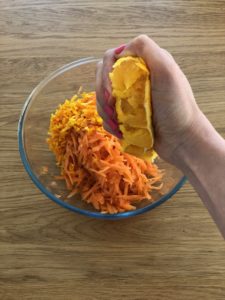 Ingredients
150 grams self-raising flour
2 eggs (for a egg-free alternative use 2 tbsp of flaxseed meal mixed with 5 tbsp of water)
60 grams unsalted butter (dairy alternative: use coconut oil instead)
2 medium carrots
2 oranges (or 150ml fresh orange juice)
* additional: feel free to add raisins or sultanas for more sweetness (i usually do half batch with and half batch without)
Directions
Step 1

Pre-heat oven 190 degrees celcius, then line muffin tin with paper cases or grease a silicone muffin tray. Grate carrots and place in a bowl. Then squeeze out the orange juice from the oranges into the same bowl and grate the zest from 1 of the oranges.

Step 2

Add melted butter into the carrot mix.

Step 3

In a separate bowl whisk the 2 eggs and then add into the mixture. Then fold through the flour into the mixture.

Step 4

Spoon out the mixture into each paper case or a greased silicone muffin tray, smooth out the top of each muffin mixture, to prevent any grated carrot from burning. (*option: If adding sultanas to half the muffins, spoon out half the mixture into cases then mix through half a cup of sultanas to the other half of the mixture and spoon out the rest into the cases.) Bake for approx 20-25 minutes until centre is cooked. Leave to cool on a wired rack. Store in the fridge for up to 4 days or freeze up to 3 months.