Porridge Balls
August 31, 2017
: 8 balls
: 1 min
: 2 min
: 3 min
: Easy
These super easy porridge balls are great for a quick, healthy, non-messy breakfast OR snacks for babyledweaners 6mo+. Even Mum and Dad eat them during the week as snacks. Easy to pick up for small fists/hands and are a great snack to take with you out and about. Feel free to mix it up and add further ingredients such as chia seeds, sunflower feeds, pumpkins seeds etc ... you can also freeze these Porridge balls for up to 3months and use as a breakfast or snack whenever your like! How to freeze? Dry freeze them! How to dry freeze? Lay all balls so they are not touching onto a tray with baking paper and place tray into the freezer. Once the balls have been dry freezed, you can then put all the balls into a zip lock bags all together and they shouldn't then stick to each other. You can take the Porridge balls out in the morning and place them into the microwave for 15sec 👍 Then serve. Super easy!!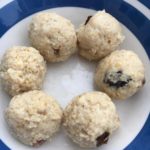 Ingredients
1/2 cup quick oats (approx 50 grams)
1/2 cup full fat milk (approx 100ml)
a small handful of blueberries or chopped up sultanas or raisins
a sprinkle of cinnamon or mixed spice
Directions
Step 1

Chop up a small handful of sultanas or raisins for young bubs 6mo+ (or keep the raisins whole for bubs 12mo+)

Step 2

On a low heat, on a stove top add oats, milk, sultanas and sprinkle cinnamon and consistently stir the ingredients together for approx 1-2min until you have achieved a creamy gluggy texture (note: add a little more milk if needed). Once a creamy gluggy texture, remove from heat, let the mixture cool, then with your hands start rolling small handfuls of the porridge into balls. (Ball size: for bubs 6mo-8.5mo make the porridge balls big enough for bub to put them into her/his hands/fist, 8.5mo+ you can make them a little smaller as per pic). Either serve straight away warm to bub OR roll all balls and keep them in the fridge in a airtight container and use for breakfast or snacks throughout the week!.

Step 3

TIPS!! for breakfast: serve warm or cold (great for teething babies). For snacks: keep the porridge balls in the fridge for up to 3 days and serve to bub either cold OR reheat a little to make them warm (i just serve them cold as snacks!). Keep a batch in the fridge for snacks also for Mum and Dad. They are super tasty!