3-ingredient Sweet Potato Fritters
February 26, 2017
: 10 Fritters
: 5 min
: 4 min
: 9 min
: Easy
These 3-Ingredient Sweet Potato Fritters are SUPER easy to make, very nutritious and make a great meal or snack for baby led weaners aged 6mo+. They are also so tasty for the whole family to eat!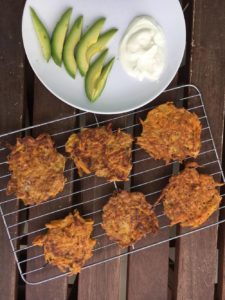 Ingredients
1x medium sized Sweet Potato
3x eggs
1x sprinkle of Cumin
Directions
Step 1

Using a grater, grate the whole sweet potato into a bowl. Using the same bowl, ADD 3x eggs and sprinkle some cumin. Mix all ingredients together. On medium heat, heat up a little olive oil in a large pan (until the base is shiny). Spoon out 1x tablespoon of sweet potato mixture onto the pan, and flatten ingredients out to make 1x flat fritter (TIP: make each fritter 'flat' not thick, so mixture cooks through). Continue spooning out mixture to make 4x fritters on the pan (depending how large your pan is)

Step 2

Leave to cook for 2 minutes on one side. Then flip and cook for 2 minutes on the other side. Once all the fritters are cooked, leave to cool. Serve with freshly sliced avocado and full fat greek yogurt as a dipping sauce. Freeze left over fritters (lay fritters flat in freezer not touching) for future meals for baby and family.